Offering Commercial Flooring Services
Offering all types of commercial, industrial, and exotic floor coatings.
Delivering Polymer Floor Systems for since 1989.
Northland Painting delivers long-lasting, high-performance polymer floors for industry. This seamless
flooring is formulated to withstand corrosive chemicals, punishing impact, and continuous abrasion year after year. Northland Painting floors are available in a wide variety of colors and textured surfaces that remain safe even when wet or oily. We also have the largest portable Blastrac available in the area.
GROUTS
To pitch, level, or patch substrates prior to overlayment.
SEALANTS
Allow flexible control and expansion.
MEMBRANES
Both vertical and horizontal available for waterproofing and crack bridging.
LININGS
Corrosion resistant, fiberglass reinforced, immersion and maintenance coatings for industrial applications.
SEAMLESS
Epoxy quartz floors are skid resistant, durable, and easy to clean and maintain.
COATINGS
100% solid epoxy coatings are abrasion and chemical resistant and cleanable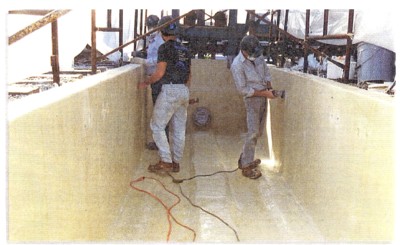 These high-performance polymer floors can be found in facilities such as:
Health Care
Pharmaceutical
Electronics
Food Processing
Chemical Processing
Mechanical
Industrial
Transportation
Parking Ramps
Commercial